By providing centralized Managed Firewall service at the onShore data center, E-Rate clients can have the cost covered by Category 1 and not be limited by Category 2 budgets. This solution eliminates the need for acquiring and managing firewalls at every school location, saving you time and money.

onShore's unique approach includes a shared-EVC (ethernet virtual circuit) which moves the network hub upstream for significant costs savings while providing a full WAN solution.

We understand E-Rate better than anyone and provide all the proper reporting and tax handling with flexible payment options.
NexGen Firewall as a Service, Delivered Turnkey,
and Available as E-Rate Category 1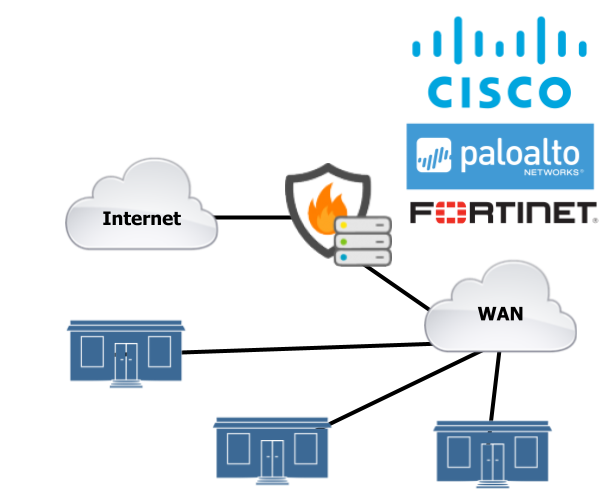 onShore Networks' connectivity pairs perfectly with our Managed Firewall, or Firewall-as-a-Service, bringing the fastest, most reliable Internet access to your school, along with the security your data deserves. With onShore Networks as your provider, you can save the time, energy, and cost associated with purchasing, operating, and maintaining the hardware, software, and expertise needed to keep your network safe. Our 24/7 service delivers the security of NexGen firewalls to your network, along with the expertise and vigilance of our team of firewall experts. Beyond Firewall service, onShore's advanced WAN and Internet connectivity frees organizations to design their network infrastructure more efficiently, utilizing multi-point EVCs and other architecture innovations. onShore Security understands the E-Rate system, with years of experience servicing schools and educational institutions. All of our Managed Firewall solutions can be customized to qualify for E-Rate Category 1 or 2 and help your organization get the best security, for the best price.
Your network traffic is routed to our data center and through our firewall. Hosted solutions offer increased resilience and benefit from our redundant power, connectivity, climate control and other infrastructure, as well a significant reduction in circuit and bandwidth expense for clients operating a WAN.